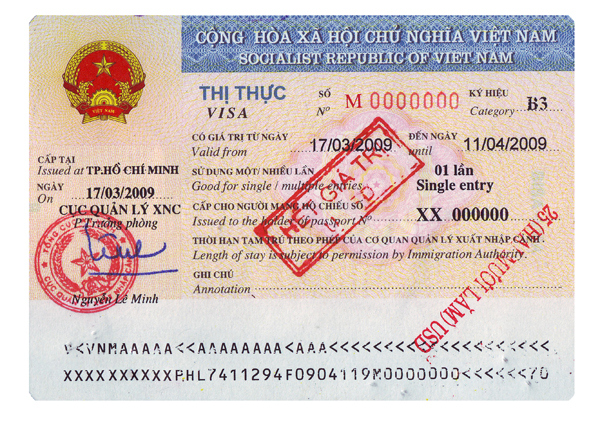 How to obtain Visa to Vietnam??
HOW TO OBTAIN A VISA TO VIETNAM
We would like to introduc our visa application services in Vietnam:
I. Visa on arrival
If you plan to visit Vietnam or your resident location is not nearby Vietnamese embassy or Consulate, you will be satisfied with our quick arrangement for VISA ON ARRIVAL.
II. Procedure
We receive the order by fax or email from you with information as follow:
1. Full names (include gender)
2. Date of birth
3. Nationality
4. Occupation
5. Passport No. (valid at least 06 months)
6. Date of arrival
7. Port of arrival (please choose either Noi Bai (Ha noi) or Tan Son Nhat (Saigon-Ho Chi Minh City) or both.
8. Length of stays (one month for tourist visa).

Example of a travelers application:

Upon reception tourist order, we will submit the details to the Immigration Office (the I/O) and wait for the visa approval (normally 02-04 days)

If approved, Immigration Office will fax visa approval to us and we will send it to you. You will need to bring it along your flight. When you arrive Vietnam at the airport where you choose to enter Vietnam you can easily get a visa on your arrival.

Note: Please note that you will have to bring along 02 passport photo as well as your passport (of course) to obtain the visa at the airport.

Types of Visa and Cost for arranging visa approval
Tourist: US$ 10 (single-entry); US$ 50 (multiple-entry).