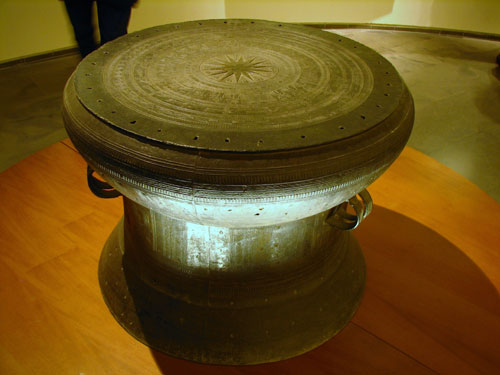 Vietnam, officially the Socialist Republic of Vietnam is the easternmost country on the Indochina Peninsula in Southeast Asia. With an estimated 87.8 million inhabitants as of 2011. The country is bordered by China to the north, Laos to the northwest, Cambodia
to the southwest, and the South China Sea to the east. Its capital city has been Hanoi since the reunification of North and South Vietnam in 1976.
Socialist Republic of Vietnam
Currency: đồng (₫) (VND)
Time zone:  UTC+7 (UTC+7) (same as Bangkok and Jarkarta)
Calling code: 84
Geography
Vietnam covers a total area of approximately 331,210 km2 (127,881 sq mi), excluding the Hoang Sa and Truong Sa islands, making it almost the size of Germany. The combined length of the country's land boundaries is 4,639 km (2,883 mi), and its coastline is 3,444 km (2,140 mi) long. 
The northern part of the country consists mostly of highlands and the Red River Delta. Phan Xi Păng, located in Lào Cai province, is the highest mountain in Vietnam, standing 3,143 m (10,312 ft) high. Southern Vietnam is divided into coastal lowlands, the mountains of the Annamite Range, and extensive forests.
The Red River Delta (also known as the Sông Hồng), a flat, roughly triangular region covering 15,000 km2 (5,792 sq mi), is smaller but more intensely developed and more densely populated than the Mekong River Delta. 
The Mekong delta, covering about 40,000 km2 (15,444 sq mi), is a low-level plain no more than 3 meters (9.8 ft) above sea level at any point. It is criss-crossed by a maze of rivers and canals, which carry so much sediment that the delta advances 60 to 80 meters (196.9 to 262.5 ft) into the sea every year.
Climate
Because of differences in latitude and the marked variety in topographical relief, the climate tends to vary considerably from place to place. During the winter or dry season, extending roughly from November to April, the monsoon winds usually blow from the northeast along the Chinese coast and across the Gulf of Tonkin, picking up considerable moisture. Consequently, the winter season in most parts of the country is dry only by comparison with the rainy or summer season. The average annual temperature is generally higher in the plains than in the mountains, and higher in the south than in the north. Temperatures vary less in the southern plains around Ho Chi Minh City and the Mekong Delta, ranging between 21 and 28 °C (69.8 and 82.4 °F) over the course of the year. Seasonal variations in the mountains and plateaus and in the north are much more dramatic, with temperatures varying from 5 °C (41 °F) in December and January to 37 °C (98.6 °F) in July and August.
Ecology and biodiversity
Vietnam has two World Natural Heritage Sites – Ha Long Bay and Phong Nha-Ke Bang National Park – and six biosphere reserves, including Can Gio Mangrove Forest, Cat Tien, Cat Ba, Kien Giang, Red River Delta, and Western Nghe An.
Rail
Vietnam's primary cross-country rail service is the Reunification Express, which runs from Ho Chi Minh City to Hanoi, covering a distance of nearly 2,000 kilometres. From Hanoi, railway lines branch out to the northeast, north and west; the eastbound line runs from Hanoi to Ha Long Bay, the northbound line from Hanoi to Thai Nguyen, and the northeast line from Hanoi to Lao Cai.
Religion
For much of Vietnamese history, Mahayana Buddhism, Taoism and Confucianism have been the dominant religions, strongly influencing the national culture. About 85% of Vietnamese identify with Buddhism, though not all practice on a regular basis. Reportedly, 81% of Vietnamese people do not believe in God.
According to the 2009 census, while over 10 million people have taken refuge in the Three Jewels, the vast majority of Vietnamese people practice ancestor worship in some form.
Culture
Vietnam's culture has developed over the centuries from indigenous ancient Dong Son culture with wet rice agriculture as its economic base. To some extent, the national culture can be seen as part of the Sinosphere, drawing on elements of Confucianism and Laoism in its traditional political system and philosophy. Vietnamese society is structured around làng (ancestral villages). The influences of immigrant cultures – such as the Cantonese, Hakka, Hokkien and Hainan cultures – can also be seen, while the national religion of Buddism is strongly entwined with popular culture. In recent centuries, the influences of Western cultures, most notably French and American culture, have become evident in Vietnam.
Vietnam reveres a number of key cultural symbols, such as the Vietnamese dragon, which is derived from crocodile and snake imagery; Vietnam's National Father, Lạc Long Quân, is depicted as a holy dragon. The lạc – a holy bird representing Vietnam's National Mother, Âu Cơ – is another prominent symbol, while turtle and nghê (dog) images are also revered.
Vietnamese highly regard family value and community value.
Clothing
A key part of Vietnam's culture is the "áo dài", worn for special occasions such as weddings and religious festivals. White áo dài is the required uniform for girls in many high schools across Vietnam. Áo dài was once worn by both genders, but today it is mostly the preserve of women, although men do wear it to some occasions, such as traditional weddings.
Cuisine
Vietnamese cuisine uses very little oil and many vegetables. The main dishes are often based on rice and soy sauce. Sugar, serrano peppers, lime and nuoc mam (fish sauce) are among the most common flavorings, as are mint and basil. The most popular dishes in daily meals of Vietnamese are rice served with salty fish sauce, salted cooked fish or pork and vegetable soup. There are some specialities of Vietnamese people can be heard: Phở (Beef  or chicken noodle), spring roll (nem cuốn).