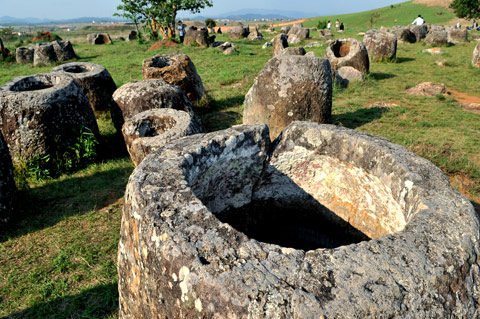 Itinerary: Luang Prabang - Xiengkhouang - Vientiane - Pakse - Khong Island (10 days)
Tour Price: 
Day 1: Arrival - Luang Prabang
Upon arrival at the Luang Prabang airport, you are met and transferred to the hotel by Trans Indochina Travel tour guide. We will visit Wat Visoun and Wat Aham, Wat Mai; then climb up to the top of Phousi Mount enjoying a beautiful sunset view of the city and the Mekong River. Exploring Street Night Bazaar. Overnight in Luang Prabang.
Day 2: Luang Prabang - Pakou
Seeing the the temple of Wat Sene and the magnificent Wat Xiengthong with its roofs sweeping low to the ground, cruising up on the Mekong River to Pak Ou Caves, crammed with thousands of gold lacquered Buddha statues of various shapes and sizes. We stop at the village of Ban Xanghai, where they make the distillation of local rice wine. Transfer to Ban Xang Khong and Ban Xienglek, well known for its hand made of Jute Sar paper.
Day 3: Luang Prabang – Khouangsi Waterfalls
You will visit the morning Phosi Market where you will see such diverse offerings as dried buffalo skin, local tea and saltpeter among the chickens, vegetables and hill-tribe weavings. Yu will visit the Ban Ouay, Hmong Hill tribe, Ban Ou, Lowland Lao and Ban Thapene of Khmu village. Continue driving to the beautiful Khouangsi Waterfall where you can splash around in the pools or walk along the forest paths, return to Luang Prabang by late afternoon and continue to Ban Phanom, a well known weaving village, return to the city by late evening for observing the sunset at Wat Siphouthabath. Overnight in Luang Prabang.
Day 4: Luang Prabang – Xiengkhouang (Road)
We will visit the National Museum at the former Royal Palace, which displays a lovely collection of the artifacts reflecting the richness of Lao culture dating from the days of the early kings right through the last sovereign, and the Central Market are not to be missed.
We are driving 306 km overland on up mountain to Xiengkhouang. Upon arrival, we transfer out to visit the Plain of Jars, an impressive archaeological site where hundreds of large stone jars are littered all over the plateau. We are seeing the old capital of Muang Khoun. Overnight in Xiengkhoang.
Day 5: Xiengkhouang – Vientiane (Flight)
Visiting Central Market before we catch a flight back to Vientiane. After checking into hotel, we continue our sightseeing tour of Vientiane surrounding; visit the impressive Laos - Thai Friendship Bridge and the Buddha Park, a display of Buddhist and Hindu sculptures created by mystical monk on parkland located by the Mekong River. Overnight in Vientiane.
Day 6: Vientiane City Tour
Visiting the major sights of the capital including the oldest Wat Sisaket with thousands of miniature Buddha statues and the former royal temple of Wat Prakeo previously housed the famous Emerald Buddha Image. On the way to the famous and sacred structure of That Luang Stupa and Patuxay Monument.
Continue to visit Wat Ong Tue, Wat Inpeng and Wat Haisok and the Vientiane Central Market of Talad Sao and Talad Kouadin. By late afternoon observing sunset by Mekong. Overnight in Vientiane.
Day 7: Vientiane – Pakse – Don Khone (Flight)
Early flight to Pakse. On arrival, we drive on the National Road No. 13th south to Champassak and visit the ruins of Wat Phu, which is well known as the most important Hindu sanctuary of the Khmer Empire between 9th –13th centuries. We will continue to Khong Island by traditional local slow boat. Overnight in Khong Island.
Day 8: Don Khone Island – Surrounding (Boat)
We will cruise into the widest reach of the Mekong River from where thousands of islets jut out in dry season, giving this area a lovely name "Siphandon". A long the way, we stop at the Liphi waterfalls and the fisherman village of Ban Khone. On return, we take a short drive to the Laos - Cambodia border at Weukham and the sight of Khone Phapheng,which both South East Asia's biggest water falls. Overnight in Khong Island.
Day 9: Done Khone Island - Tadlo – Pakse
Upon leaving Khong Island, we continue our journey towards Tadlo, through Boloven plateau where famous tea and coffee plantation and other lush vegetation and red surface of basaltic soil are incredible all along the way. En route, there are some opportunities to explore a part of Boloven plateau and visit some hill villages of the Katu, Alak and Nge ethnic minority people, return to Pakse by late evening. Overnight in Pakse.
Day 10: Pakse – Departure
Breakfast in hotel then transfer to the airport for catching either flight to Siem Reap - Cambodia or overland exit the Chongmek International checkpoint to Ubon Rathani Thailand. End of the tour.
Includes:
- Private A/C vehicle as per program

- Twin shared room and daily breakfast

- English speaking tour guides (Other languages are upon request)

- Admission fees

- Air ticket from Xiengkhoang to Vientiane and airport tax

- Air ticket from Vientiane to Pakse and airport tax

- Boat trip to Khong island

- Luggage handling
Excludes:
- International air tickets to/from Laos

- Meals are quoted separately

- Visa to Laos 

- Departure airport tax US$10.00/pax

- Single room (quoted separately)

- Personal expenses and others not stated…