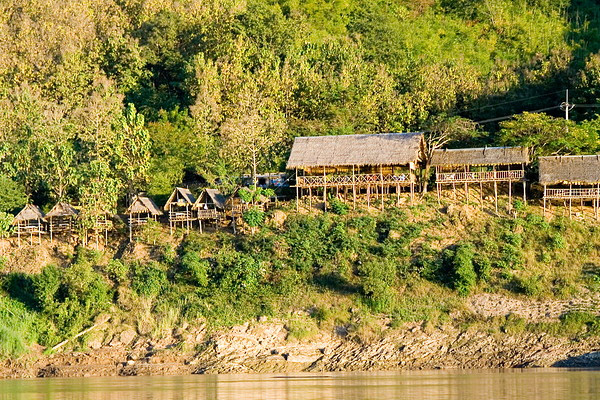 Itinerary: Houei say - Pakbeng - Oudomxay - Nongkhoiw - Luang Prabang - Vang Vieng - Vientiane (11 days)
Tour Price:

Day 1: Chiangkhong – HoueiSay - Pakbeng
the Group will be arriving at Houei Say in Laos from Chiangkhong (Thailand) and welcomed by Trans Indochina Travel Tour guide to embark on our boat for cruising downstream on the Mekong River. This portion of the Mekong River is not too large but both banks of the rivers are bordered byvery beautiful mountain ranges and green forest. The pace is very relaxed, a perfect way to observe rural life close up. Along the way, we stop over at Ban Houeilampen to visit the Hmong hill tripe people. They are very poor, but have an interesting culture and a colorful history. Overnight in Pakbeng.
Day 2: Pakbeng – Oudomxay
Upon leaving Pakbeng, we begin our expedition, venturing into northern Laos. The roads conditions are very poor; however the verdant and rugged mountain scenery combined with the colorful local population makes for an unforgettable experience. Today, we drive through the area, home to various ethnic minority groups including the Hmong, Khmu, Akha and Taidam,... some of whom we will meet on our wonderful adventure. Overnight in Oudomxay.
Day 3: Oudomxay – Muong La - Muong Ngoy
Breakfast in hotel, the journey leads us through the scenic area to Muong La. Here is a chance to visit Pra Xack Kham Temple with its sacred Buddha image. This 400 years old statue legendary possesses many supernatural powers which are widely worshipped among local people. After an enjoyable stop in Muong La, we will continue our trip to Muong Khoua and board a traditional boat for a leisurely cruise on the Nam Ou River down to Muong Ngoy, our base for next trekking days. Overnight in Muong Ngoy.
Day 4: Muong Ngoy – Ban Kioukhan
Breakfast, we discover the remote and extremely beautiful mountain region of the north is ideal for anyone seeking a true adventure and trekking expedition. We head out of town and begin our trek uphill to Ban Kioukhan. This small village is conquered by the Khmu hill tribe people. A long the way, we walk through many different villages... and are sure to attract attention as this part of the country receives very few visitors. We arrive at Ban Kioukhan by late afternoon and have time to walk around this charming village, enabling us to understand a little more about their culture and daily lifestyle. Overnight at Ban Kioukhan village (home stay).
Day 5: Ban Kioukhan -Muong Ngoy
Breakfast in local house, today, we continue our expedition, using the local tracks. The trekking is difficult at times with some steep uphill and down hill walking, but the experience is unique. After a half day walking, we arrive at Ban Hadsaphaei village which is situated by the Nam Ou River. There is a complete change of pace as we embark on a boat trip to Muong Ngoy, giving us a great chance to relax and explore the great landscape of limestone mountain outcrops surrounding the area. Overnight in Muong Ngoy.
Day 6: Muong Ngoy – Luang Prabang
After breakfast, we will trek for a half day, passing through several more hill villages to Pak Ou Caves. This magnificent cave houses thousands of gold lacquered Buddha statues of various shapes and sizes, all brought there by devoted villagers. Overnight in Luang Prabang.
Day 7: Luang Prabang City Tour
Breakfast in hotel then the group will be visiting the National Museum at the former Royal Palace, which displays a lovely collection of the artifacts reflecting the richness of Lao culture dating from the days of the early kings right through the last sovereign, is not to be missed. We visit this sight as well as the magnificent Wat Xiengthong. The temple structures are decorated in various ways with gilded stuccoes and doorways.
Heading out of this area, we explore some other major sights including the impressive stupa of Wat Sene, the shrine of Wat Aham, the city's oldest temple of Wat Sene and Wat Mai. The perfect way to round off the day is to watch the spectacular sunset over the Mekong River from the top of Phousi Mount. From there, we explore Street Night Bazaar, where you can find the lovely collection and handmade textile by local and hill tribe people surrounding Luang Prabang. Overnight in Luang Prabang.
Day 8: Luang Prabang – Vang Vieng
An early morning breakfast and departure to Vang Vieng. The journey is strenuous as we drive along one of the most scenic but rough routes in the whole of Asia. We arrive in Vang Vieng, a small town that is located on a bend in the Nam Song River. This tranquil town is rapidly developed with the advent of tourist, but the beautiful scenery with a mixture of quiet water and limestone outcrops is unchanged for century. We embark on our boat for a well-paced trip on the Nam Song River, exploring the breathtaking mountain landscape and the famous cave of Tham Jang. Over night in Vang Vieng.
Day 9: Vang Vieng Trekking
Heading out of town, we take a short drive before we set off on a full day's trek from Ban Phatang village through undulating hillsides and paddy fields. On the way, we visit Tham Hoy Cave and Ban Phathao village which is home to the Hmong ethnic minorities. After a picnic lunch, we continue walking and exploring the fantastic limestone karsts formation. The trekking ends when we arrive to Ban Tham Xang by late afternoon. At this small village, we have a chance to explore the interesting local life style and enjoy a traditional dance performed by villagers. Over night in Vang Vieng.
Day 10: Vang Vieng – Vientiane
Breakfast, we drive ahead to the capital city of Laos is Vientiane which is located on the banks of the Mekong River. After a half day traveling by winding roads, we arrive in Vientiane and start our city tour [if time permits]. We visit Wat Sisaket, the oldest temple still standing in Vientiane. This amazing structure features remarkable frescoes and Buddha images. The following sight is Haw Prakeo, the former royal temple of Laos monarchy, where previously housed the famous Emerald Buddha Statue. We then visit the imposing Patuxay Monument which is well known as Vientiane's own Arc de Triumph before continuing to the famous That Luang Stupa. Overnight in Vientiane.
Day 11: Vientiane Departure
After breakfast, we visit the Morning Market and the weaving village of Ban Nong Bouathong (if time permits). The tour ends after your transfer to Wattay Airport or Friendship Bridge for departure. End of the tour.
INCLUDES:
- Private A/C vehicle as per program

- Twin shared rooms and daily breakfast

- English tour guides (other languages are upon request)

- Admission fees

- Boat trip on Mekong River

- Luggage handling 

- Water bottles
EXCLUDES:
- International air tickets to/from Laos

- Meals are quoted separately

- Visa to Laos 

- Departure airport tax US$10.00/pax

- Single room (quoted separately)

- Personal expenses and others not stated…