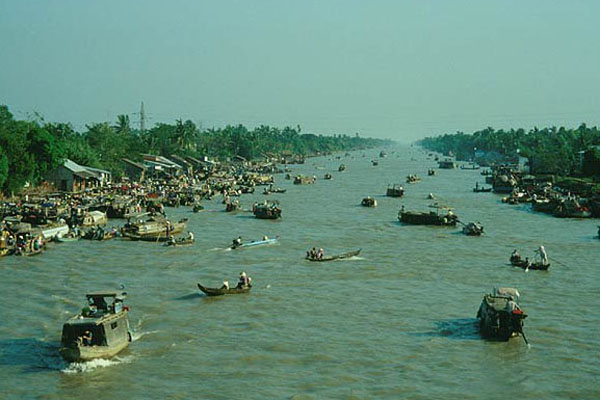 Itinerary: Chieng Khong - Pakbeng - Luang Prabang - Vang Vieng - Vientiane-Hanoi - Sapa -Halong Bay - Hue - Hoi An - Saigon - Chau Doc - Phnom Penh - Siemreap  (30 days)
Tour Price: 3,619 US$ / person 
Day 1: Chiang Khong (Thailand) – Pakbeng (--/--/D)

On arrival at Houei Say in Laos from Chiang Khong (Thailand), the Trans Indochina Travel tour guide will embark on our traditional boat cruising downstream on the Mekong River. This part of the Mekong River is quite narrow and both banks of the rivers are bordered by amazing scenery of beautiful green forests and towering hills. The pace is very relaxed as we drift along the river in our boat, a perfect way to observe rural life close up. Along the way, we stop over at Ban Houeilampen to visit the Hmong hilltribe people. They are very poor, but have a vibrant culture and an interesting history, overnight in Pakbeng.
Day 2:  Pakbeng – Oudomxay - Nong Khiow (B/L/D)

We have an early start visiting the hill tribe market before leaving Pakbeng; we then begin our expedition, venturing into the mountainous and remote area in Northern Laos. We make a few rest stops along the way, which gives you the opportunity to see the ethnic minority groups of Hmong, Khmu, Akha and Taidam. The hill tribe people are unfailingly friendly; welcoming you with waving hands and smilling faces. The journey to Nong Khiow leads us through areas with dramatic landscape. We will also visit the hilltribe villages of Hmong at Ban Jarong, Ban Songja, Khmu before arriving at Nong Khiow in late afternoon. Nong Khiow is a remote village situated by the banks of the river, across a dramatic valley the surrounding mountainous scenery is stunning. Overnight in Nong Khiow.
Day 3: Nong Khiow – Luang Prabang (B/L/D)

After breakfast we board a traditional boat downstream on the Nam Ou River, drifting along the peaceful river, stopping over to visit some timeless villages along the way. Our journey takes us to Pak Ou, where the Nam Ou River meets with Mekong River. We take a visit to the mysterious Pak Ou Caves, two linked caves crammed with thousands of gold lacquered Buddha statues of various shapes and sizes left by pilgrims. We continue our trip down to the UNESCO World Heritage City of Luang Prabang. This former royal capital with its gleaming temple roofs, fading colonial architecture and stunning mountain backdrop retains a unique charm rarely found in all of Asia. A visit to Luang Prabang would be incomplete without climbing 329 steps to the top of Mount Phousi for an enjoyable exploration of the sacred, gilded stupa and to enjoy a beautiful sunset view of the city and its glowing reflection on the Mekong River. From there, we explore the Night Market, where you can find a lovely selection of handmade textile made by local and hill tribe people surrounding Luang Prabang. Overnight in Luang Prabang.
Day 4: Luang Prabang City Tour (B/L/D)

An optional early start gives you the fantastic opportunity to participate in the daily morning rituals of saffron-clad monks collecting offerings of Alms (ubiquitous sticky rice) from the faithful residents. This tradition is very unique in Laos, being the only Buddhist nation still preserving the procession.
After breakfast, we explore this charming city. From 1353 until 1545 Luang Prabang was the capital of the Lane Xang kingdom before power was transferred to Vientiane. Despite the move, Luang Prabang remains as the seat in the monarchy and when the kingdom broke up in 1694, one of the deceased king's grandsons established a rival kingdom to those in Vientiane and Champassak. You will spend the day exploring the temples and sites in what is called one of the last Shangri-La's of Southeast Asia. You will visit Wat Xiang Thong, the most important Buddhist monastery in the country, Wat Visoun, Wat Khili and Wat Mai. Later, we visit the former Royal Palace, now a National Museum (close TuesDay ) where you will find ornate, gilded and brocaded reception rooms, as well as Buddha and spectacular artefacts including the Prabang, a large holy image, which was given in the 14th century by the Khmers to King Fa Ngum. Overnight in Vientiane.
Day 5: Luang Prabang – Vang Vieng (B/L/D)

After breakfast, we leave this charming city in the early morning for our journey to Vang Vieng. Our journey will be strenuous as we drive along one of the most scenic but also one of the roughest routes in Asia. In the afternoon we arrive in Vang Vieng, a small and tranquil town, which is nestled on a bend of the Nam Song River. Its stunning scenery with a mixture of quiet water and limestone outcrops remains unspoiled, despite recent developments with the advent of tourism. We visit Tham Hoy Cave, a large cave that runs 7 kilometres deep and surrounding hilltribe villages of Khmu and Hmong. Overnight in Vang Vieng
Day 6: Vang Vieng – Vientiane (B/L/D)

After breakfast, we spend half our Day driving to the capital city Vientiane, which is located on the banks of the Mekong River. Vientiane is a charming and fascinating capital, with an interesting mix of Lao, Thai, Chinese, Vietnamese, French, Soviet and American influences. A city tour acquaints us with the capital and after a short rest if time permits we start visiting some of the major sights; including the oldest temple Wat Sisaket, with thousands of miniature Buddha statues and the former royal temple of Wat Prakeo, which previously housed the famous Emerald Buddha Image. Enroute to Lao's national precious heritage, the famous and sacred structure of That Luang Stupa, you will have the opportunity to take some pictures of the imposing Patuxay Monument, which is well known as Vientiane's own Arc de Triumph. Overnight in Vientiane.
Day 7: Vientiane – Lakxao (B/L/D)

Early morning, we head out to the southern Lao capital - Lakxao border town, driving on the 13th south; we experience smooth roads to central Lao and change for route no.8, which is a major trading route and one of the routes of the famous Ho Chi Minh Trail. On the way, we visit local villages and enjoy the great scenery of the surrounding limestone mountains and an overview of the peaceful landscape on Nam Theun River. Lakxao is located near the Laos – Vietnam border gates, and once we arrive, stroll around this little town and browse the local market. Overnight in Lakxao.
Day 8. Lakxao – Vinh - Hanoi (B/L/D)

Breakfast in hotel then transfer to Vinh City (Vietnam) via Cau Treo border pass. Transfer to Hanoi in the same day. Arriving Hanoi at about 19.00. Overnight in Hanoi.
Day 9: Hanoi City tour - Train to Sapa (B/L/D)

The guide and car will take you to visit Ho Chi Minh Mausoleum, Presidential Palace, One pillar pagoda. Having lunch then continue to visit Temple of Literature – Vietnam's first national university and  wonderful Museum of Ethnology. Visit Ngoc Son temple and lake of Returned Sword. Transferring to Hanoi train station for the night train to Laocai. Overnight on train.
Day 10: Sapa Trekking (B/L/D)

Arriving Lao Cai station then transfer to Sapa town. Having breakfast in hotel then visit the colorful Sapa market where Black H'mong, Red Dzao, Giay , Phula, Tay minority people come in droves to buy and sell their local produces.  Having lunch then start to traekking in Lao Chai and Tavan, home to H'mong, and Dzay people. This is a absolutely spectacular walk through stunning scenery inhabited by some of the friendliest people you can meet.  Once on the valley floor you can really appreciate the wonderful scenery that surrounds you. The walls of the valley are covered with multi-layered rice terraces and scattered villages. Overnight in Sapa.
Day 11: Sapa - Bac Ha Market - train to Hanoi (B/L/D)

Breakfast in hotel then heading out for a stunning spectacular of bobbling bazzar. Bac Ha is considered  one of the most wonderful and colorful markets in extreme north Vietnam where thousands of local people in their traditional attires busily buy and sell the local produces. Dog, cat, pig, horse... are all on sales. This is golden opportunity to take best shots! Afternoon we have a pleasant walk to Flower H'mong village of Banpho we then transfer back to Lao Cai station for the train to Hanoi. Overnight on train.
Day 12: Hanoi - Halong Bay (B/L/D)

Breakfast in hotel. Heading east for 3 hours to reach Halong Bay, the pride of the Gulf of Tonkin, a Natural World Heritage as designated by UNESCO in 1994. Take a big boat from the Wharf of Halong in the morning and cruise the Bay, you will reach the breathtaking views of Halong seascape and discover the magnificent beauty of this "Descending-dragon" bay. After a lunch of fresh seafood on the boat, you will visit the Surprising Grotto, bypass Cua Van (Van windy gate) then back to the boat for dinner and overnight on the boat.
Day 13: Halong - Hanoi (B/L/D)

After breakfast, returning to the Wharf of Halong, passing the Toad Rock, Cock-Fighting Rock, Sail Island. Arrive Halong Wharf at 11.00. Have lunch in Halong city before driving back to Hanoi. Overnight in Hanoi.
Day 14: Hanoi - Hue (B/L/D)

Breakfast then being transferred to airport for the morning flight to Hue. Welcomed in  Hue and have lunch. Enjoy the architectural works of Nguyen Dynasty, the last Vietnam feudal dynasty ended at 1945 at their Royal Citadel, Forbidden City and Hue Royal Museum, and visit Dong Ba bustling market late afternoon to experience daily life of Hue people. Overnight in Hue.
Day 15: Hue Royal Tombs and Pagodas (B/L/D)

Breakfast in hotel then taking a boat ridden along the poetic Perfume River, you can reach Thien Mu Pagoda, the centre of Buddhism of the city, whose 90% are Buddhists, and the Tomb of King Minh Mang, which is reachable from a river pier. You should go on by car to the Tomb of Kings Tu Duc and Khai Dinh, the best-reserved early 19th and early 20th centuries' monuments of the Nguyen emperors to enjoy very different styles of the royal architecture under this Dynasty. Overnight in Hue.
Day 16: Hue - Danang - Hoi An (B/L/D)

Breakfast then heading South to  Hoian Ancient town with stopovers to sightsee the Marble Mt., the famous China Beach, enjoy landscape of Hai Van (the Cloudy Mountain Pass) and Lang Co Beach. Spend your afternoon visiting the town of Hoi An – along with your guide, walk over the tile-roofed Japanese Bridge, visit taciturn Chinese Assembly Halls and Trading Houses, pagodas and stroll into the market located by Thu Bon river. Overnight in Hoi An.
Day 17: Danang - Saigon City tour (B/L/D)

Breakfast in hotel then transferring to airport for the flight to Ho Chi Minh City. You will be warmly greeted at the airport and transferred to the hotel in the city centre. Start the tour from the Post Office in colonial-style and the Notre Dame Cathedral, built between 1877 and 1883 and being the major seat of the Catholic religion in modern Vietnam. Go on to visit Thien Hau pagoda and a specific section that does not exist in any other city of Vietnam – a bustling China Town. Overnight in Saigon (Ho Chi Minh City).
Day 18: Cu Chi tunnels and Tay Ninh Holy See (B/L/D)

Departing for Tay Ninh. Arriving at noontime, you will have the chance to witness the daily ceremony at the temple of Cao Dai called Tayninh Holysee.  Yet, the midday mass is very solumn and respectful. Today, the Caodaism numbers over 2 million members, who are vegetarians, obey the rules of chastity, and lead very simple lives helping the sick and the infirm.
On the way back to Saigon is located Cu Chi Tunnels, one of the few remaining monuments to the Vietnam War. Beneath the ground lie 200 km of tunnels, dug by hand and inhabited by the forces of the Vietnamese guerillas during the conflict. Return to Saigon in late afternoon. Overnight in Saigon.
Day 19: Mekong Delta - Chau Doc (B/L/D)

Breakfast then drive Southward to Cat Be exciting floating market with local people being occupied in selling, purchasing, exchanging goods from their boats. Take a walk thru the orchards and visit the rice-paper making and rice crips family factories of the Mekong people. Transfer to Chau Doc for overnight.
Day 20: Chau Doc - Phnompenh by hydrofoil boat (B/L/D)

Breakfast in hotel then take the hydrofoil boat to Phnompenh. Arriving Phnompenh at about 11.30. Welcoming by tour guide and car to transfer to the hotel for check in. City tour first Visiting Wat Phnom from which Phnom Penh derived its name. Then visit the Royal Palace compound build in 1866 by the Predecessors of King Norodom, colorful Khmer-style Palace, continue visit Silver pagoda (the Emerald Buddha temple), display plenty of Buddha Statues that were decorate and made by diamond, emerald, gold and silver. Overnight in Phnom Penh.
Day 21: Phnompenh - Chhlong (B/L/D)

Departing overland excursion by 4W Pajero Car to Chhlong District. Kratie Province along N6a & N7 via K.pongcham province, stopover for explore some site of Rubber gardens along the road, lunch en-route at local restaurant, arrived Chhlong at lateafternoon, checkin the "Relais du Chhlong" (riverside room). Overnght in Chhlong.
Day 22:  Chhlong - Rattanakiry (B/L/D)

Continue overland to Rattanakiry Kratie and Stungtreng province intown, stopover at Sambok district of Kratie Province for explore the Dolphin preserved area on Mekong river. lunch near the site at local riverside restaurant during discove dolphine appear and play on Mekong River. On PM continue the journey excursion east to highland of Ratanakiry province, you will be most interesting and found many wild animal through the Natural jungle, crossing the Mekong River and the Sre Pok River, stopover at Kon-Mom Natural lake, arrival Banlung at lateafternoon checkin hotel and relax. Overnight at hotel in Banlung - Rattanakiry.
Day 23: Rattanakiry highlands (B/L/D)

After breakfast have a full day excursion and explore Trapeang-Kakor village to visit the mines of ruby and enjoy scenery of the tropical forest and visit inhabiting areas of Charay and Tompuon minorities ethnic people. Excursion in the surroundings of Banlung, with visits to Teuk Cha Ong waterfall, Yeak Laom lake, a zircon mine and a pepper plantation. Teuk Cha Ong - a spectacular waterfall in a jungle gorge. The other attractions in this area are the isolated ethnic minority villages and a zircon mine. Yeak Laom: a volcanic lake which forms a near perfect circle and is surrounded by tropical forest. Late afternoon return to the town. Overnight in Banlung - Ratanakiry.
Day 24: Rattanakiry - Elephant riding (B/L/D)

Breakfast in hotel then visit local market at Bar Kaev. Sightseeing around Banlung. Visit a local market. Excursion by vehicle to several minority villages such as Andoung Meas. Boat ride to Phoum Dal and another village. On the way visit a rubber plantation. A lovely spot for swimming, if desired. Elephant Ride: Take a 3 hour elephant ride to a scenic waterfall and back through the Cambodian bush. Overnight at hotel in Rattanakiry.
Day 25: Rattanakiry - Kampong Cham (B/L/D)

After breakfast, departing leaving directly for Kampong Cham on the way return west, your lunch en-route at Kratie province or somewhere along en-route. Check-in hotel in Kampongcham upon arrived in the late afternoon, rest of the day after long journey. Overnight in Kampong Cham.
Day 26: Kampong Cham - Kampong Thom (B/L/D)

Leaving for Kampong Thom, onward to the West-North stopover for visit Phnom Pros (the hill  of men) and Phnom Srei (the hill of women) from which you can admire the surrounding panorama, distance 25Km from Kampongcham. Check-in hotel upon arrived intown of Kampongthom province. On PM trip to discover Sambor Prei Kuk, the antique capital of Chenla (early 7th century). Originally called Ishanapura, Sambor Prei Kuk is home to the most impressive group of pre-Angkorian monuments with more than 100 temples scattered through the lush forest. According to inscriptions found in the area, Sambor Prei Kuk was the capital of Icanavarman (616AD - 635 AD) and residence of the King who had conquered the Empire of Funan. Return to town at latafternoon, stop en route for sightseeing and intermingle with the local people. Overnight in Kampong Thom.
Day 27: Kampong Thom - Siemreap (B/L/D)

After breakfast continue overland transfer to Siem Reap, the gate of Angkorland. Checkin hotel upon arrived then have lunch at Tonlesap restaurant. In the lateafternoon view the sunset at Angkor Wat from the top of Phnom Bakheng Mt. Enjoy a traditional Apsara dance performance during dinner at Koulen II restaurant. Relax & overnight at hotel in Siemreap.
Day 28: Angkor Temples (B/L/D)

After breakfast visit the ancient city of Angkor Thom: the Bayon temple, the Baphuan, the Elephant Terrace and the Terrace of the Leper King, then  Continue to visit the Thommanon, the Chau Say temples and the natural lake of Sras Srang. Returned to town for lunch at Tonle-Mekong restaurant. Afternoon visit the Ta Prohm temple which is a wonderful combination of human genius and natural beauty. Giant trees have grown here for centuries. Turn to visit Ta keo, the  "Jewel of Crystal" dedicated to the Hindu God Shiva that was built at the end of the 10th century and the Angkor Wat where the founder of the temple was Suryavarman II who reigned Cambodia from 1113 to 1152 and built the five towers in the 12th century to dedicate to the Hindu God Vishnu. Overnight in Siemreap.
Day 29: Siemreap - Bantey Srey (B/L/D)

Spending the morning in one of the jewels of Angkor, the Banteay Srey Temple which means "Citadel of Women". This temple is built of pink sandstone and presents the most graceful carvings in stone you might ever seen in your life. The temple is dedicated to the god Shiva. After a picnic lunch near the site, go on to Kbal Spean, the river of thousand Lingas, the phallic symbol of the God Shiva. Arriving nearby the site, walking for an hour through the forest to arrive at Kbal Spean. Overnight at hotel in Siemreap.
Day 30: Siemreap Departure (B/--/--)

Breakfast in hotel then at leisure till transfer to the airport for the flight departing Cambodia. End of the tour.
INCLUDES:
- Private A/C vehicle

- Twin shared /double rooms

- Boat trip in Mekong River, Halong Bay, Perfume River

- English tour guides (other languages are available upon request)

- Air ticket Hanoi to Hue, Danang - Saigon with airport tax (Vietnam Airlines)

- Admission fees

- Elephant Riding Fees

- Luggage handling

- Fresh bottled water
EXCLUDES
- Meals in program are quoted separately (USD 7-8/ meal / person - Set menu)

- International air tickets to / from Indochina and airport tax

- Visa to Vietnam, Laos and Cambodia

- Single room (quoted separately)

- Personal expenses and others not stated…

- Late check out, early check in as per hotels' policy
Set of 2 star hotel:
Pakbeng: Phetsokxay hotel

Nongkhiow: Phaibun hotel

Luang Prabang: Sanakeo hotel

Vang Vieng: Elephant Cross hotel

Vientiane: Asian Pavillian hotel

Laksao: Local Guesthouse

Hanoi: Hong Ngoc 2 hotel

Sapa: Goldsea hotel

Hue: Truong Giang hotel

Hoi An: Indochine hotel

Saigon: Thanh Lien hotel

Chau Doc: ben Da Nui Sam hotel

Phnompenh: Pacific hotel

Chlong: Relais Du Chlong hotel

Rattanakiry: Sovannkiry hotel

Kampong Cham: Mekong hotel

Kampong Thom: Arunras hotel

Siemreap: Goldiana hotel