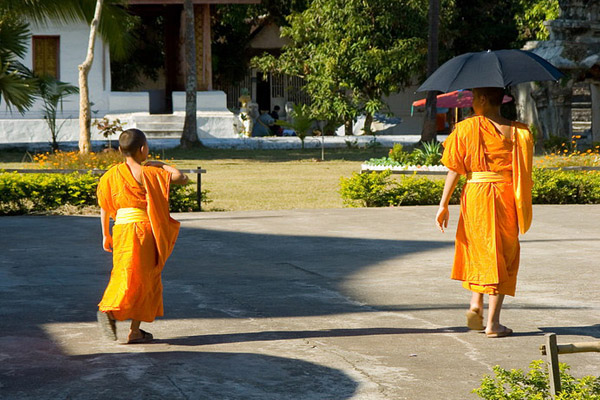 Itinerary: Luang Prabang - Vientiane - Hanoi - Halong - Saigon - Mekong delta - Siem Reap (13 days)
Price: 1,378 US$ / person
Day 1: LUANG PRABANG ARRIVAL - CITY TOUR (--/--/--)
- Welcome by Trans Indochina Travel tour guide upon arrival Luang Prabang airport. You will be transferred to your hotel in the town.
- 13h00: Wat Visoun and the shrine of Wat Aham, Wat Mai.
- 14h00: Wat Xieng Thong,
- 16h00: Climb up to the top of Phousi Mount for an enjoyable exploration of the sacred, gilded stupa as well as a beautiful sunset view of the city and the Mekong River.
- 18h00: Exploring Street Night Market, where you can find the lovely collection and handmade textile by local and hill tribe people surrounding Luang Prabang.
- 20h00: Back to hotel for overnight.
Day 2: LUANG PRABANG – PAK OU CAVE – KUANGSI WATERFALL (B/-/-)
- 08h00: breakfast in hotel
- 09h00: Starting cruising upstream on the Mekong River, which also gives us a beautiful view of the tranquil countryside and enjoy an interesting visit to the mysterious of Pak Ou Caves, crammed with thousands of gold lacquered Buddha statues of various shapes and sizes.
- 12h00: Break for luch
- 13h30: Visiting the village of Ban Xanghai, where local people make the distillation of local rice wine.
- 15h00: Drive to the beautiful Kuang Si Waterfall, where you can swim, relax or take a soft trek to the top of the fall.
- 17h00: Take a stop at Black Hmong Village, where hill tribe's hand-made handicrafts are offered as the souvenir for passing-by visitors.
- 18h30: Transfer back to hotel for overnight.
Day 3:  LUANG PRABANG – VIENTIANE (B/-/-)
- Get up early morning today to witness or participate in the famous "Arm-Giving" ceremony, where hundreds of monks walking along the street to collect the offerings (rice and food) from local people.
- 06h30: Visit the Fresh morning market at Pra Kham village.
- 08h00: Return to your hotel for breakfast.
- 09h00: Visit the weaving village of Lu ethnic minority at Ban Phanom.
- 10h30: Flight to Vientiane (QV108: 11.20-12.00).
- 12h00: Welcome by your tour guide in Vientiane
- 14h00: Visting the oldest Wat Sisaket, the temple with thousands of miniature Buddha statues and the former royal temple of Wat Prakeo previously housed the famous Emerald Buddha Image.
- 15h00: Visit the famous and sacred structure of That Luang Stupa. On the way, we stop to take some pictures of the imposing Patuxay Monument, which is well known as Vientiane's own Arc de Triumph.
- 16h30: Visit the Central Market of Talad Sao and Talad Kouadin.
- 18h00: Return to bank of Mekong river observing the sunset.
- 19h30: Back to hotel for overnight in Vientiane.
Day 4: VIENTIANE – HANOI  (B/-/-)
- 08h00: Breakfast in hotel
- 09h00: Visit to the weaving village at Ban Nong Bouathong.
- 11h30: Back to hotel for checking-out.
- 12h30: Transferred to the airport for and international flight to Hanoi (Vietnam) (QV312: 14.30-15.50)
- 15h50: Welcomed by Vietnam tour guide upon arrival Noi Bai airport.
- 16h30: Ariving hotel in Hanoi.
- 17h30: Take a walking tour around the Old Quarter to get the very first acquaintance to this city or free at leisure to relax.
- 18h30: Back to hotel for overnight.
Day 5: HANOI – HALONG OVERNIGHT ON BOAT (B/L/D)
- 07h30: Breakfast in hotel
- 08h30: Starting for Halong Bay, a World Heritage with thousands of limestone and dolomite island and islets. It will take you roughly 3.5 hours to arrive Halong with stops en route for your refreshment.
- 11h30: Arrival in Halong, check-in the cruise junk where will spend your 2-day-1-night trip.
- 12h30: Enjoy a lunch of fresh seafood while the boat goes about unusual seascape with thousands picturesque rocks and islets, beaches and hollow islands. Within your time on boat, you will enjoy the visit to karts grottoes, swimming, and other activities as well as the magnificent sunset on Halong Bay.
- 18h30: Dinner on the boat.
Day 6: HALONG – HANOI (B/-/-)
- 07h00: Breakfast on boat.
- 08h00-10h00: Continue to cruise the bay. The Vietnamese call the "South China Sea" by a point-oriented name "Eastern Sea", so you may guess how miraculous seeing the sunrise over the islets of the Bay. Our boat will continue to cruise in marvelous areas, where almost each islet has its own name, adopting its shape or reminiscen like Sail island, Fisherman's head rock, Butterfly rock or Turtle islet etc. - 11h00: Enjoy the brunch onboard before back to Halong Wharf.
- 12h00: Your vehicle is waiting to bring you back to Hanoi.
- 16h30. Arriving Hanoi and see you off at your hotel
Overnight in Hanoi.
Optional: Evening show of Water Puppetry, a stage art created by the Vietnamese peasants. The show last more than an hour and is a wonderful opportunity to learn about some of Vietnam's mythology, traditions and current customs.
Day 7: HANOI – SAIGON (HO CHI MINH CITY)  (B/-/-)
- 07h00: Breakfast in hotel
- 07h00: Exploring Hanoi with the very first stop at Ho Chi Minh Mausoleum and His Old House (close every Monday and Friday).
- 09h00: Visit Temple of Literature, the very first university of Vietnam,
- 10h30: Visiting the Hoan Kiem lake and Ngoc Son temple, Ma May Ancient House at 87 Ma May street. This is one of rare ancient house still preserved in Hanoi. The house was built at the end of the 19th century according to the structure of traditional house.
- 11h30:  Tranfer to airport for the flight to Saigon (Ho Chi Minh City) VN1129: 13.00-15.00.
- 15h00: Welcomed upon arrival Saigon and transfer to hotel for checking-in.
- 16h00: Visit the historic Reunification Palace that witnessed the end of the Vietnam War in 1975.
- 18h00: Explore bustling China Town, Cho Lon (Binh Tay market) and Thien Hau pagoda.
- 19h30: Back to hotel for overnight.
Day 8: SAIGON – CAI BE FLOATING MARKET – SAIGON (B/L/-)
- 07h00: Breakfast in hotel.
- 07h30: Covering 2.5 hours driving to the Mekong Delta. The tour will start with the visit of Cai Be colorful floating market, cruising among local sampans coming from all provinces of the delta full of fruits and vegetables.
- 10h00: Your sampan will proceed to Dong Hoa Hiep island located between Vinh Long and Cai Be. During a 40 minutes cruise, you will be able to discover beautiful landscapes along the river and observe the typical Mekong delta rural life. These evergreen islands among the Mekong River still remain unknown to many people.
- 11h00: Visit at an ancient mandarin house dating from the 19th century where the family will welcome you with a cup a tea.
- 11h30: Back on board, we will lead to you to observe the activity of the biggest rice stock market.
- 12h30: See a traditional bricks and tiles factory and how locals are using palm leaves for houses. Cruising 20 minutes further to Phu An hamlet passing by Cai Be beautiful church, we will have a visit at some interesting home factories to see how rice paste is made, but also rice cookies, coco candies, as well as longan fruits drying process.
- 12h30: Lunch will await you at Le Longanier, a superb Indochinese villa located in a lush tropical garden by the river, surrounded by fruit orchards. After a short walk along a beautiful canal, the excursion will end at approx.
- 15h30: At Ba Bon Bridge where your own private transportation vehicle will await you to return to Saigon in the afternoon.
- 17h30: Arriving Saigon for overnight.
Day 9: SAIGON – TAY NINH – CU CHI TUNNEL (B/-/-)
- 07h00: Breakfast in hotel.
- 07h30: Start a visit to Tay Ninh, the centre of Caodaism, a local sect of Buddhism founded by a Vietnamese countryman in early 20th century.
- 10h00: Arriving Tay Ninh at noontime, you will have the chance to witness the daily ceremony at the temple of Cao Dai called Tayninh Holysee. The midday mass is very solumn and respectful. Today, the Caodaism numbers over 2 million members, who are vegetarians, obey the rules of chastity, and lead very simple lives helping the sick and the infirm. They are known for their séances and communications with the spirit world.
- 13h00: Start the trip to Cu Chi Tunnels (on the way from Tay Ninh to Saigon), one of the few remaining monuments to the Vietnam War. Beneath the ground lie 200 km of tunnels, dug by hand and inhabited by the forces of the Vietnamese guerillas during the conflict. At its peak, prior to the Tet Offensive in 1968, the tunnel complex was base to almost 10,000 troops. To this day, it remains one of the most impressive examples of how fierce the war was.
- 16h00: Return to Saigon.
- 18h00: Arriving Saigon for overnight.
Day 10: SAIGON – SIEM REAP VN827: 11.40-12.40 (B/-/D)
- 07h00: Breakfast in hotel.
- 07h30-09h30: At leisure
- 10h15: Transfer to Tan Son Nhat Airport for to flight to Siemreap (VN 827 11h40-12h40).
- 12h40: Welcomed in Siem Reap and transfer to hotel.
- 14h30: Departing to visit Angkor Thom to visit the Bayon temple, the Baphuan, the Elephant Terrace and the Terrace of the Leper King.
- 18h30: Viewing the sunset at Phnom Bakheng.
- 19h30: Having dinner with Apsara traditional dance.
- 21h00: Back to hotel for overnight.
Day 11: SIEM REAP - Angkor Temples (B/-/-)
- 07h00: Breakfast in hotel.
- 07h30: Transfer to visit the Ta Prohm temple which is a wonderful combination of human genius and natural beauty.
- 08h40: Visiting Ta keo temple, the "Jewel of Crystal" is dedicated to the Hindu God Shiva and was erected at the end of the 10th century.
- 09h45: Continue to visit the Thommanon, the Chau Say temples and the natural lake of Sras Srang.
- 13h45: Starting to visit Angkor Wat (The founder was Suryavarman II who reigned Cambodia from 1113 to 1152 and built the five towers in the 12th century and dedicated them to the Hindu God Vishnu).
- 17h30: Back to hotel for free dinner.
Overnight Siemreap.
Day 12: SIEM REAP – BANTEAY SREY - River of Thousand of Lingas (B/-/-)
- 07h30: breakfast in hotel>
- 08h00: Spending the entire morning in one of the jewels of Angkor, the Banteay Srey Temple which means "Citadel of Women". This temple is built of pink sandstone and presents the most graceful carvings in stone you might ever seen in your life. The temple is dedicated to the god Shiva.
- 13h30: Continuing to Kbal Spean, the river of thousand Lingas, the phallic symbol of the God Shiva (arriving the site, walk for an hour through the forest to arrive at Kbal Spean).
- 14h30: Return to Siem Reap for overnight.
Day 13: SIEM REAP DEPARTURE (B/-/-)
- 07h00-08-00: Breakfast in hotel
- Transfer to the airport for your departure flight. End of services.
SERVICES INCLUDED:
- Twin shared/double room in proposed hotels or equivalent and daily breakfast
- All transfer and transportation by private A/C vehicle as per program.
- English speaking guides in different regions
- International air ticket Vientiane - Hanoi with airport tax (Lao Airlines)
- International air ticket Saigon – Siem Reap with airport tax (Vietnam Airlines)
- Domestic air ticket in Laos: Luang Prabang - Vientiane with airport tax (Lao Airlines)
- Domestic air ticket in Vietnam: Hanoi – Saigon with airport tax (Vietnam Airlines)
- Package 2-day trip in Halong Bay with full board (Join-in basis)
- Other boat trips in the program are on private basis.
- Meals as mentioned in the program.
- Admissions to all sightseeing places as mentioned in the program.
- Mineral water and wet tissue during tour (One bottle of 500ml/person/day)
SERVICES not INCLUDED:
- International airfare & airport taxes to Laos and from Cambodia.
- Entry Visa to Vietnam , Visa to Laos and Visa to Cambodia .
- Any other meals apart from those mentioned in the services included.
- Drinks and personal expenses (Laundry, phone calls, tips for tour guide and driver, etc)
OTHERS:
Meals are quoted separately:
USD 09/lunch/person
USD 10/dinner/person
NOTICE:
The official check-in time at hotel is 14.00 and check-out time is 12.00. Early check-in or late check-out is subject to the availability of the hotel and there will be certain surcharges if early check-in or late check-out is definitely required.